Product Description
150w 12V 24V 36V ac dc transformer
Specifications                                                                                  
150w 12v 24v 36v ac dc transformer
output: 12,24,36,48vDC,150Watt 
short-circuit&overload protection 
Compact size 
100% full-load burn in test 
2 years warranty 
Description:                                                                                    
Competitived price and high reliability

105°C Output capacitor

AC input power suitable for the world

High efficiency and low operation temperature

Soft-start current can reduce the AC input impact effect

With short-circuit and overload protection

Compact size, light weight

100% full-load burn-in test

Installed with EMI filter, minimum wave
 

SMT-012-150SA

SMT-024-150SA

SMT-036-150SA

SMT-048-150SA

DC output voltage

12V

24V

36V

Output Voltage Tolerance (Note 2)

 ± 2%

 ± 3%

±2%

± 2%

Rated output current

12.5A

6.25A

4.17A

 3.125A

Output Current Range

2-12.5A

3-6.25A

1-4.17A

 0.8-3.125A

Ripple and noise (Note 3)

60mVp-p

120mVp-p

60mVp-p

150mVp-p

Into the line of stability (Note 4)

 ± 0.5%

 ± 1%

± 0.5%

 ± 1%

 Load stability (Note 5)

± 0.5%

 ± 5%

 ± 0.5%

 ± 6%

 DC output power

150W

Efficiency

>82%

>81% 

 >83%

>82% 

DC voltage adjustable range

 

 

 Input Voltage Range

100 ~ 264VAC Selected by switch 47 ~ 63Hz

 Input Current

 2.5A /115V ,1.25A/ 230V

 Inrush Current

Cold-start Current 35A

 Leakage

<3.5mA/240VAC

 Overload

105% ~ 150% Type: pulsing hiccup shutdown Reset:auto recovery 

 Over Voltage Protection

3.125V ~ 12.5V

 Temperature Protection

------ ------

 Temperature Coefficient

± 0.03%/°C (0 ~ 50°C) ON +5V

Start, rise, hold time

200ms,50ms,20ms

 Earthquake resistance

10 ~ 500Hz, 2G 10min / 1 cycle, a total of 60 minutes, each axis

 Pressure of

Between input and output: 1.5KvAC,  input and shell: 1.5KvAC ,output and shell: 0.5KvAC

 Isolation Resistance

Input and output,input and shell, shell and output: 500VDC/100M Ohms

Temperature, humidity

-10°C ~ + 60°C  ,20% ~ 90%RH

 Storage temperature, temperature

-20°C ~ + 85°C,10% ~ 95%RH

Dimensions

199*110*50mm

Weight

0.85Kgs

 Safety Standards

UL1950,TUV EN60950 UL1950,EN61347-1 UL1310, TUV EN60950

 EMC Standards

IEC8012-3,4, IEC555-2 IEC8012-3, 4, IEC555-2

Notes:

1 The above parameters test conditions are: 230VAC input, rated load, 25 °C 70% RH. Humidity. 
2 Tolerance: includes set up tolerance, line stability, load stability (Note 5). 
3 The ripple test: 20MHz with A12 "twisted pair, interrupted with 0.1uF & 47uF capacitor short-circuit. 
4 Into the line voltage stability test: full load into the line of the minimum voltage to maximum voltage. 
5 Load stability test: the load from 0% to 100%, and other output at 60% rated load. 
6 The output of up to maximum current, but the overall load can not exceed the maximum output power.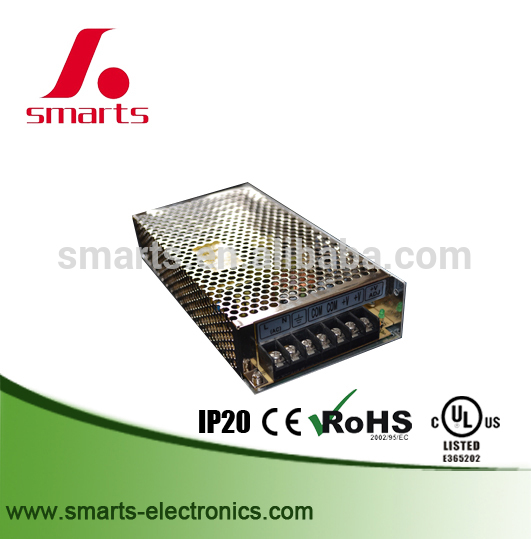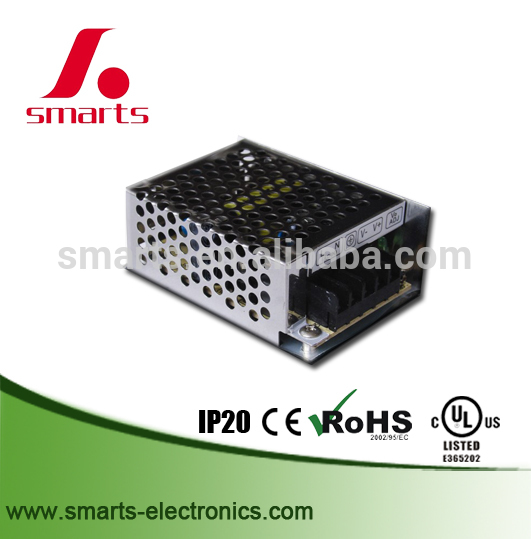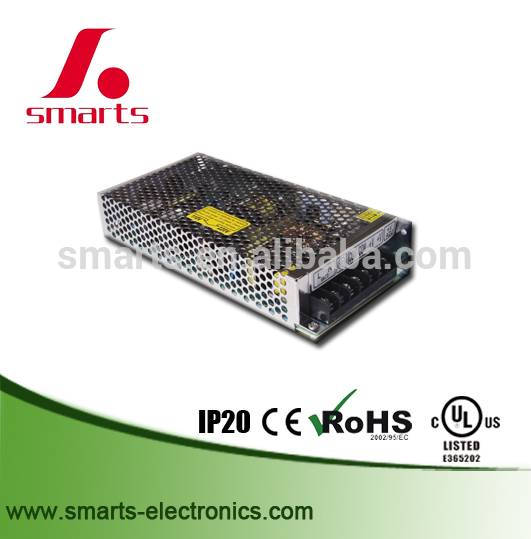 packaging & shipping                                                                                                                       
inner box-white box + outer carton- standard exporting carton for packing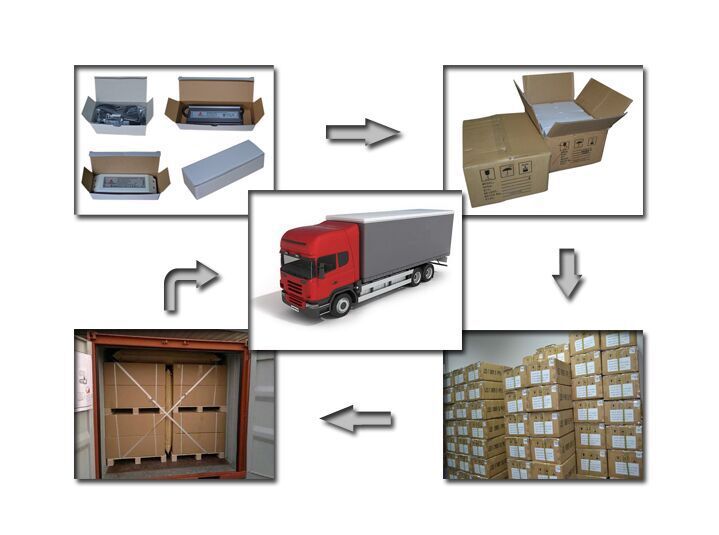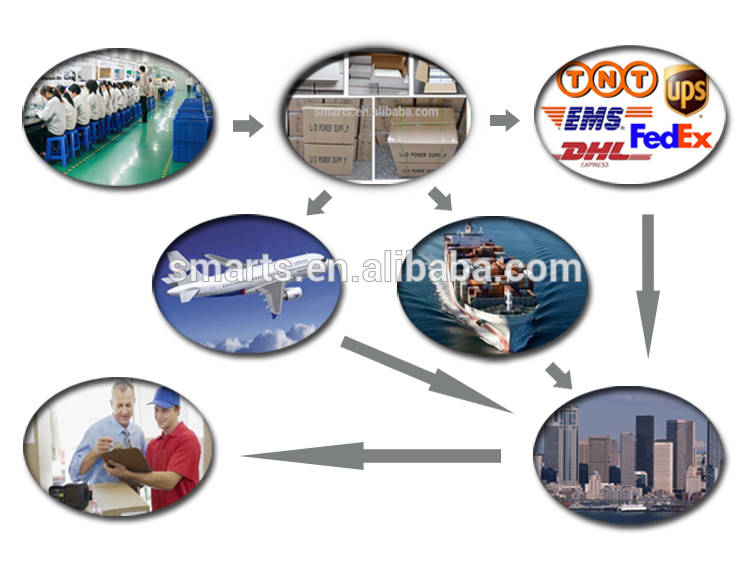 Quanzhou Smarts Electronic & Technology Co.,Ltd (SMARTS INDUSTRIAL (HOLDING) CO LTD) was founded in 1998. The company is located in a developed economy, abundant resources, beautiful scenery of Quanzhou city Licheng district town pontoon, the company has an area of 2000 square meters, production workshop, warehouse, office, living facilities complete with. With the development of society, human increasing awareness of "green energy, environmental protection, save energy" becomes... View detail   website: 
our team: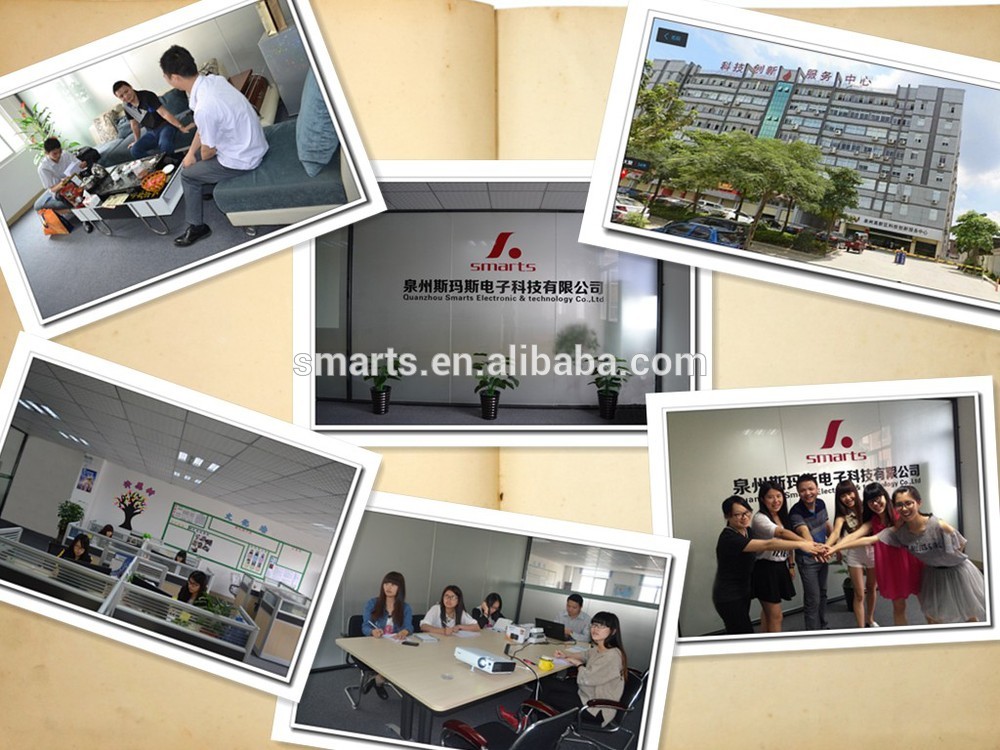 certifications:                                                                                                                                                                    
CE, UL/CUL, ROHS approval.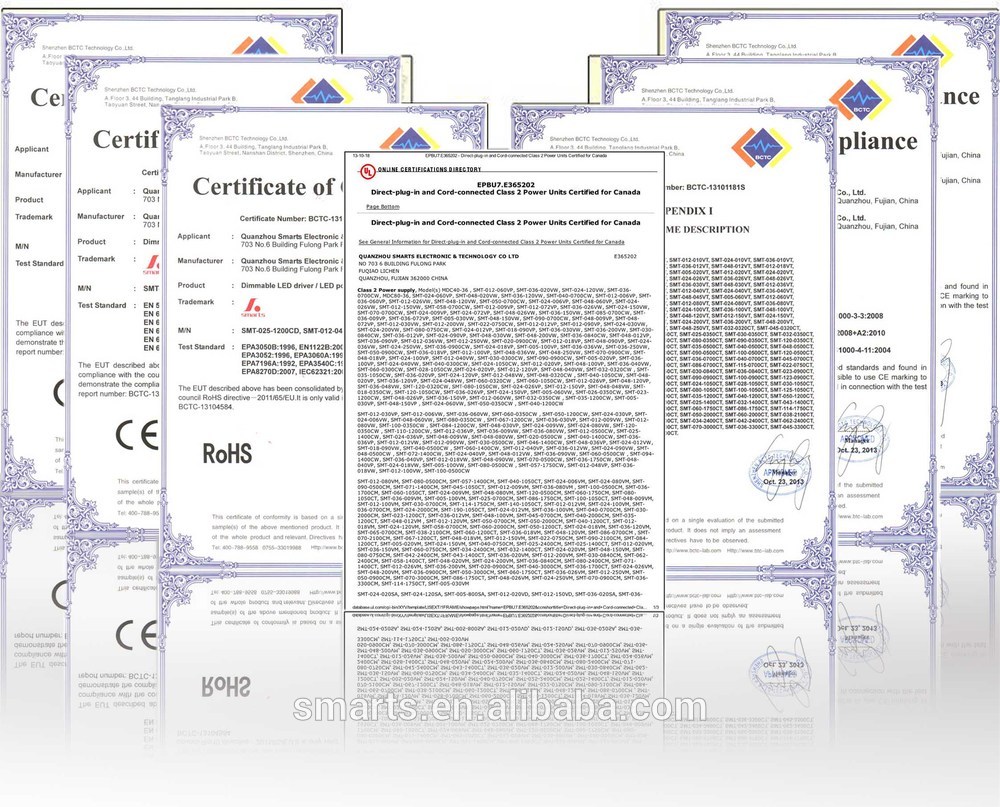 factory & equipments view: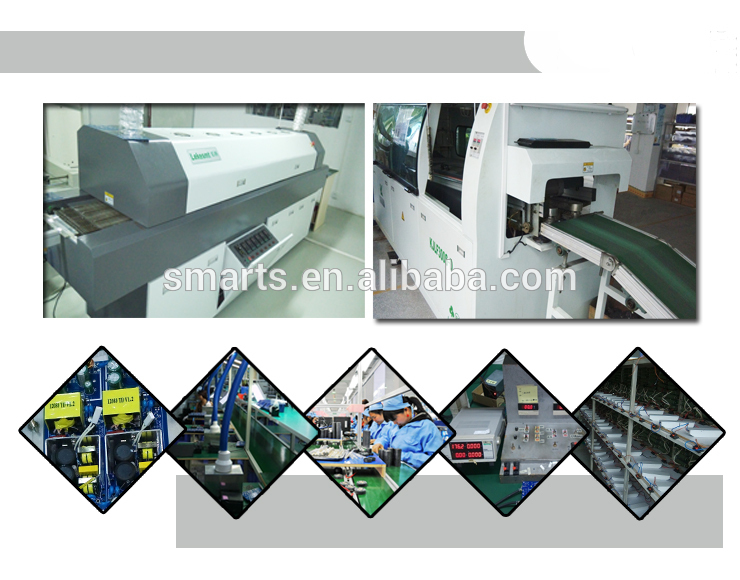 FAQ                                                                                                                                                                                                                                                  
Q1.             What's type power supply do you have?
Answer:     We specialized in constant voltage & current LED drivers,
                   0- 10v/triac/DALI dimmable led drivers, enclosure power suppliers, power adapters
Q2.             What's shipping mode can we choose?
Answer:     1.FedEx/DHL/UPS/TNT/Express for samples;
                   2. By Air or by Sea for batch goods, for FCL; Airport/ Port receiving;
                   3. Customers specifying freight forwarders or negotiable shipping method
Q3.             What's the MOQ?
Answer:     Our MOQ is 500pcs, but we accept your trail order/small order, no problem.
Q4.             What can you do if the product is broken?
Answer:     We promise to replace new ones to you if there is any defective happen
                   during the warranty period, but we need pictures or video to prove the defective 
                   comes from our quality problem
Q5.             what's the protection of product?
Answer:     Most of our products have protection of short-circuit. overload,
                   over voltage, over current and reserve polarity. About the specific product, 
                   please consult our salesstuff.
Q6.              what's the transportation?
Answer:      For small order,express will be best.And for bulk order,sea ship way is best but take much time. 
                    For urgent orders,we suggest via air to airport plus our ship partner send to your door. 
                    We will cooperate with your choice.
Q7.              What's the Payment do you have?
Answer:      To assure you the maximum comfort and satisfaction, Currently, you can pay via T/T, L/C, 
                    WESTERN UNION, PAYPAL. More payment options will be added in the near future
Send your inquiry details in the bellow for professional reply, 
click "  send  " now !
Product Categories : Single Output Switching Power Supply